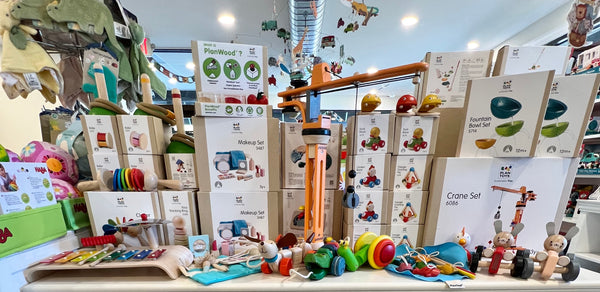 Sustainable Kids Brands Every Parent Should Know About
It's so much fun to spoil your kids with the latest and greatest toys and gear available, but the reality is that these children's products often contain harmful synthetics and can take over 1,000 years to decompose in a landfill. Everything from everyday household staples like diapers to the fabric of children's clothing to BPA-lined plastic products is, unfortunately, as hard on the environment as they are on our kid's skin and health. So, if you're feeling the eco-guilt when it comes to the brands you buy for your children, you might want to consider the sustainable products we have here at Kids 'N Kribs. Check out our curated list of child and planet-friendly brands below.
Klean Kanteen
Klean Kanteen is a manufacturer of reusable drinkware and food solutions. They are climate-neutral certified, meaning they measure their carbon footprint annually and reduce and offset where they can. Each purchase also supports the 1% for the Planet cause, which invests 1% of sales into organizations working hard to solve the climate crisis. We love them because they offer durable, kid-friendly sippy and water bottles, and even stainless steel baby bottles designed for small hands and mouths.
Tikiri
Looking for eco-friendly toys that are organic and ethically made for your child? You won't want to ignore the teethers, rattles, bath toys, soft toys, and books from Tikiri. They live by their mission of creating sustainable toys while being responsible citizens in their communities and the environment to provide a better future for the next generation. Each product is sourced sustainably with natural materials to minimize the negative impact on the planet. We love their organic and natural rubber teething toys and plushies.
Romina
Romina creates beautiful pieces of heirloom furniture through an eco-friendly manufacturing process. Through these practices, they reduce their carbon footprint and ensure they protect the environment throughout the whole procedure. From sustainable wood harvesting to renewable energy production, we love Romina products for their unique and beautiful designs with extreme durability.    
PlanToys
One of our favorite environmentally friendly brands at Kids 'N Kribs is PlanToys. They've created a range of popular sustainable wooden toys for children of all ages and stages of development. PlanToys also utilizes organic pigments, water-based dyes, and non-formaldehyde glue, so every product that comes into contact with your child is safe for them and the environment.
eeBoo
eeBoo is a woman-owned, mother-run organization that creates FSC®-certified products such as beautiful puzzles, games, art materials, and educational products for children. Besides creating amazing toys for kids, their main priority is a healthy planet. They proudly use minimal packaging and plastic components, recycled materials, and vegetable-based inks. Plus they are certified Climate Neutral by ClimatePartner, a status achieved by calculating, reducing, and offsetting CO₂ emissions on a yearly basis.
Magnetic Me
Magnetic Me is known for making baby clothing that is some of the easiest to put on a squirming newborn! Not only are their outfits loved for the simple magnetic closures that require little to no effort to put on, but this clothing brand also uses 100% GOTS-certified, organic cotton that's gentle on baby's skin and the earth. Another eco-friendly fabric they use is tencel modal, a soft fabric made from sustainably grown beech wood trees. We love Magnetic Me for its cute designs, ease of use, and earth-friendly materials!
Shop Environmentally Friendly Brands With Kids 'N Kribs
At Kids 'N Kribs, we pride ourselves on stocking a wide range of sustainable products that not only benefit the planet but your kids too. With so many brands to choose from, it can be hard to find the best option for your child. To make things a little easier, our team of product experts is always on hand to help you find the perfect product for your little one. From eco-friendly furniture by Romina to footies from Magnetic Me made from organic cotton, our extensive range of sustainable brands has something for every family. Stop by our store, shop online, or call us at 610-687-5437 to learn more.