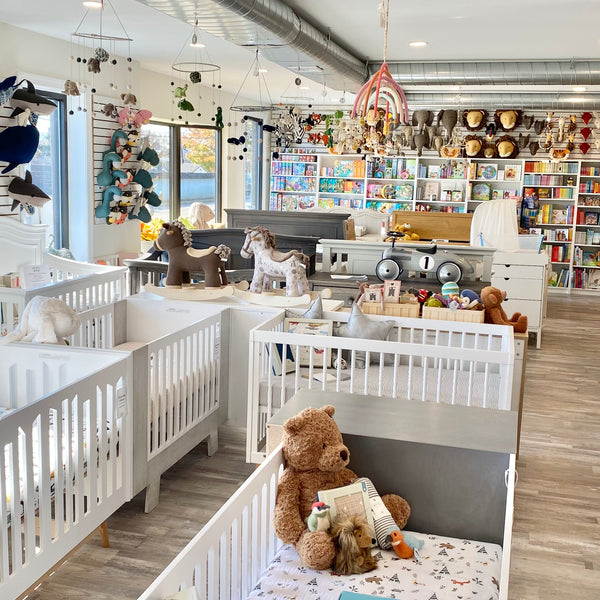 How to Prepare for a Nursery
When your baby arrives, you'll need a sweet and dreamy space that is safe, practical, and comfortable for you and your little one. While the thought of designing a nursery is exciting, and you can't wait to start, it can feel overwhelming. You and your baby will spend a lot of time in the nursery, so it's vital to make it a calm, cozy place for both of you. If you're still wondering where to begin, check out these nursery essentials you need to help you get started.
 Choose a Room and a Theme
The nursery room should be a quiet space in your home with tranquil lighting and little traffic. Since your baby will spend most of its time here, it should be peaceful; with furniture and accessories arranged for ease of use and comfort. It's a lot easier to design your dream nursery with a specific theme. Your theme can be as simple as choosing a color combination like blues, whites, and grays to something as grandiose as the Jungle Book with vividly illustrated wild animals adorning the walls. With your nursery composition in mind, you can build on it with accent lighting, wallpaper, artwork, rugs, toys, and furniture.
 Map Out Your Floor Plan
A successful nursery design incorporates four main pieces of furniture—a crib, changing table, dresser, and rocking chair. Before you make these purchases, measure your space and map out where the best and safest areas are for these essential pieces of furniture. It's not always necessary to buy new or baby-specific furniture, so determine how long you want to use each piece. When planning, consider a design where elements adapt effortlessly from the nursery to a child's room or choose pieces, like a vintage dresser, that can double as a changing table. If you're short on space or designing the room from scratch, consider multipurpose furniture or simple designs that can be easily mixed and matched with new pieces to update the look. If you're searching for top-quality nursery furniture near me, stop into Kids 'N Kribs today and check out our cribs, dressers, bassinets, chests, and more.
 Choose a Crib and Position It Accordingly
Selecting a crib isn't only about the model you choose but also how you position it in your nursery. Position your crib away from windows and try to avoid outside walls if possible. Consider how sunlight enters the room at different times of the day, which could affect your baby's sleep. Your crib must meet safety requirements and regulations to ensure safety and comfort while promoting a good night's sleep.
 Choose a Changing Table
Your changing table should have a flat, sturdy, and secure surface with everything you need within reach. It's crucial to never leave the baby unattended while changing them to fetch diapers, wipes, or other supplies, so a changing table with plenty of storage is a must.
 Add Enough Storage
Don't underestimate the amount of storage you will need! Your newborn may be little, but their items will take up considerable space. Choose a dresser with ample storage for clothing, bedding, and other nursery essentials. Shelves and organizers are also great; they help minimize clutter, so you don't have toys or books scattered on the floor when trying to put your baby back to sleep in the middle of the night.
 Add the Decor
If you have the space and the budget, now's the time to add key decor pieces to your nursery, like wall decorations, artwork, rugs, lighting, and more. Don't forget to incorporate soft textures and easy-to-maintain materials to keep the room calm and comfortable. If you've been searching the internet for the perfect nursery decor near me, we have artwork, mobiles, clocks, and so much more to help create a warm and unique space for your baby.
 Nursery Decor Near Me
At Kids 'N Kribs, we have the best selection of nursery furniture and decor to suit your needs. Whatever your theme, style, or color palette, stop by our store, and our team will help make your dream nursery become a reality!