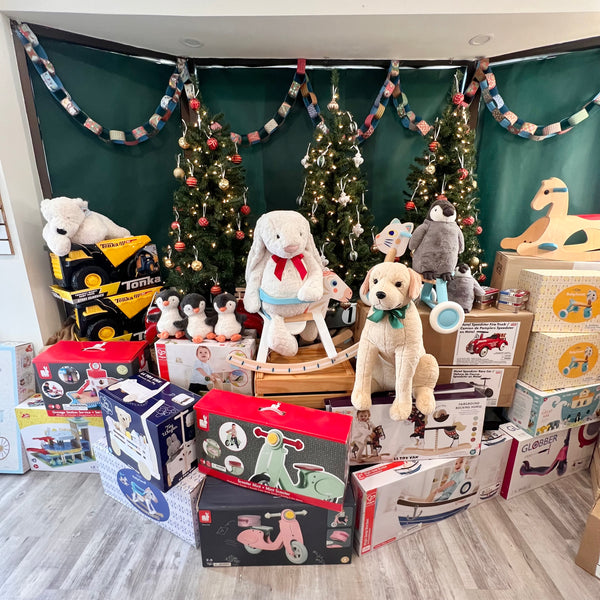 Holiday Gift Guide: Which Toys and Gifts Are Best for Each Stage of Child Development?
Gift-giving season is upon us, and the options are endless when it comes to shopping for the perfect gift for the children in your life. Many great toys, puzzles, books, and activity kits are available, and you might even feel a little overwhelmed with all the options. Rather than mindlessly purchasing just to cross it off your list, we want to help you make thoughtful decisions about the gifts you give this holiday season and ensure they're age appropriate. Because our experts have played with hundreds of toys, we feel confident in helping you make the best selection for the little ones in your life this season. Below, you will find our holiday gift guide packed with fun, interactive toys that improve balance, coordination, and motor skills for each developmental stage in a child's life.
Gift Ideas for Kids at Every Stage of Development
As you read the following lists of suggested toys and gifts for children, remember that each child develops at different rates. Items advantageous to one child might not be the best choice for another.
Toys for young infants - birth through six months
Newborns and infants are fresh to the world, often experiencing different sounds, colors, and tastes for the first time. Babies enjoy looking at faces and objects with bright colors. Typically, you'll find them reaching and grabbing with their hands and feet, lifting their heads, turning towards sounds, and putting everything into their mouths. Young infants also engage in tummy time to develop belly skills, sitting, and holding their heads up. The best toys and gifts for this age range include: 
Mirrors

Toys with music or that light up

Mobiles

Teething rings

Soft toys like stuffed animals, books, and puppets

Textured balls that promote holding and gripping
Kids' toys for older infants - seven to twelve months
At this developmental stage, older babies are on the move! Generally, seven to twelve-month-olds are rolling over, sitting up, scooting, pulling themselves up, and standing. Encouraging exploration is crucial, as is reading and music playing. The best toys and gifts for this age range include: 
Stacking blocks or rings

Toys that pull apart or with wheels

Board books with interactive components

Standing push toys like shopping carts or lawnmowers

Musical instruments with lights and sounds

Stationary play tables that include lights, music, buttons, and levers
Toys for one-year-olds and toddlers
A one-year-old is generally standing and walking on their own. It's a time in a child's life when they are on the go, talking, and generally more aware of their surroundings and body. Great toy and gift options for this age group include: 
Walking toys like strollers and wagons

Ride-on toys

Balls of all sizes

Books with simple illustrations or photographs

Things to create with, like washable markers, crayons, and paper

Things to pretend with, like phones, dolls, dress-up accessories, kitchen items, realistic cars, etc.

Wood blocks, pegboards, and three to five-piece puzzles

Bath toys

 
Kids' toys for preschoolers and kindergarten-aged children
Preschoolers and kindergarteners have longer attention spans than toddlers, so now is the time to emphasize following directions, sharing, and interacting with other children. Typically, this age group asks a lot of questions and likes to experiment with different things. Toys and activities that promote movement, sharing, and coordination are best. Some toys and gift options for this age group include: 
Tricycles and scooters

Building blocks and construction toys

Coloring and activity books

Puzzles with 12 to 36 pieces

Sand and water play toys

Musical instruments like keyboards, maracas, and tambourines

Books with more details

More advanced art supplies like paints

Memory games

 
Shop Gift Ideas for Kids at Kids 'N Kribs
Are you ready to make the gift-giving season a little easier this year? Stop into Kids 'N Kribs today! Our staff is always here to help, whether you're deciding between the teethers for infants or wondering what the most popular plush toys are this season. Connect with us at 610 687 5437 to learn more about our holiday toy and activity options.