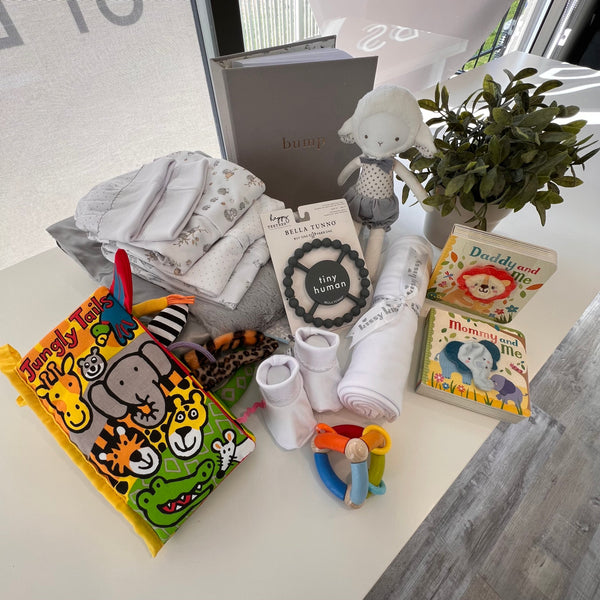 Baby Registry Essentials
With a baby on the way, you might feel like you have a thousand things on your mind. One of the most important ways to help you prepare for the arrival of your little one is putting together your baby registry. Newborns need an abundance of necessities, including clothes, nursery furniture, baby gear, and of course, diapers! If you're feeling overwhelmed by the process, that's understandable. It can be tough to know where to begin with so many baby essentials to pick out. That's why we compiled this list of baby must-haves, to help you prepare for everything you need when your little one and you come home from the hospital.
The Best Baby Registry Essentials to Add to Your List
Your baby registry must-haves should range from big-ticket items, like a crib, infant car seat and stroller, to everyday essentials, like diapers, baby apparel, and burp cloths. Below, we break key registry items down into helpful categories so you don't miss anything!
Bathing
Bath time will be a joy when you have everything you need! One of the most important things to include on your registry is a baby bathtub. A good bathtub gives your little one a safe place to rest while you bathe them. Look for a tub that can grow with your baby, from infant stage to toddlerhood. Other essentials to include on your baby's list are soft hooded towels, washcloths, baby-safe body wash, shampoo, lotion, bath toys, and a faucet cover.
Bedding
Following safe sleep practices can help keep your baby safe. Items like a crib mattress, waterproof mattress protector, and fitted crib sheets are great additions to your registry.
Clothing
It's a clever idea to register for baby clothes in several sizes because most newborns grow out of their clothing quickly. You'll also want to consider the season you will give birth and choose weather-specific clothes to accommodate the temperature. We recommend as a guideline, the following useful items to add to your registry: short sleeve bodysuits, long-sleeve footies, convertible gowns, hats, swaddles, socks, bibs, sweaters or hoodies, sleep sacks, a stroller blanket, bathing suits for a summer baby, a snowsuit for a winter baby, soft-soled shoes, and an outfit to come home from the hospital in.
Diapering
When there's a mess to clean up, you'll want to be prepared! Diapering essentials to add to your baby registry include diapers, baby wipes, diaper cream, and a changing pad. A diaper pail can also be very helpful!
Feeding
However you decide to feed your baby, the following may be helpful to add to your list: a breast pump, a nursing pillow, baby bottles, bottle brushes, baby formula, baby utensils, sippy cups, pacifiers, and burp cloths.
Nursery Furniture
Essential for every new parent-to-be is nursery furniture. Items that will help make your newborn and you comfortable include a bassinet, crib, nursery chair, and dresser with changing top, plus baskets or bins for organizing and storing your baby's items.
Play
While a baby's first few weeks will be filled with eating, sleeping, and diaper changes, you may want to have some interesting toys available for playtime. Some of our favorite items for play include soft baby books, teething toys, rattles, developmental toys, stuffed animals, and an activity mat.
Travel
Travel-related items like a car seat will be needed as soon as you prepare to take your baby home from the hospital. You have two primary choices for car seat types – an infant car seat, typically designed for a baby's first year, or a convertible car seat that grows with your baby from newborn to toddler into their early childhood years. A key travel item to include on your registry is a stroller. Chat with our Kids 'N Kribs team to select the
best strollers of 2022
that fit your needs. Other useful travel items to add to your registry include a baby carrier, diaper bag, portable changing pad, and a travel crib.
Create a Gift Registry With Kids 'N Kribs
Did you know you can create your own
baby registry
at Kids 'N Kribs? All you need to do is create an account, log in, and then you can build your registry. Or if you prefer, stop in today, and our team can get you started or help complete your registry!