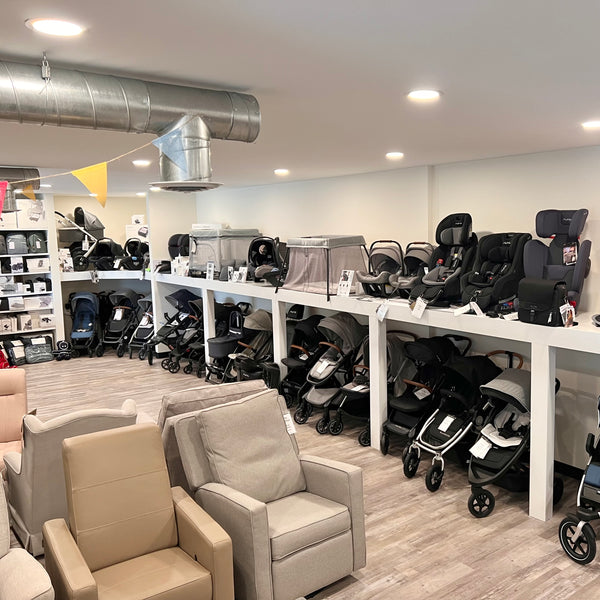 5 Things to Consider When Buying a Stroller
One of the most essential baby items that should be on every new parent's checklist is a stroller. It's an investment that will last for years if you choose one that works best for your lifestyle. The right stroller can make all the difference, whether you're taking a walk around the block, shopping at the grocery store, or running other daily errands. Deciding which stroller to get for your new baby can be challenging, especially if you don't know what to look for. Below, the Kids 'N Kribs team highlights what to remember when shopping for a stroller.
 How to Choose the Right Stroller for You
Strollers are essential when you're traveling with a baby. They allow you to easily transport your child and carry the baby's feeding or changing essentials, such as bottles, diapers, and wipes, while you are away from the conveniences of your home. Choosing a stroller that's right for you and your baby depends on several factors. What works for a friend might not be suitable for your family. It's vital to think about cost, lifestyle, and family size when deciding on the right stroller. Do you need extra storage space? Where are you going to use it? How many babies will be using it? These are all great questions to answer before landing on the ideal stroller. It's also a great idea to try out your top choices! Testing the stroller in person helps ensure that your stroller works for your baby's and your needs. If you've been searching the internet for "top-rated strollers near me," we invite you to stop by Kids 'N Kribs and let our team help with finding the right 'stroller fit' for you from our selection of quality baby gear.
 Here are just a few more things to consider when buying your first stroller:
 What Kind of Stroller Do You Need?
There's a stroller for every stage of life and every situation. Below, we highlight a few of the common types of strollers available nowadays and what (and who!) they're best for:
 All-Purpose Stroller - Also known as a full-size or everyday stroller, these are solid strollers that are typically easy to maneuver with convenient features like cup holders and extra storage. They are an ideal option for a stroll through the park or a family trip to the zoo.
Umbrella Stroller - Umbrella or lightweight strollers are usually light in weight, very portable, and slimmer in profile than an all-purpose stroller. Umbrella strollers generally don't offer the same comfort level and stability that all-purpose strollers offer.
Jogging Stroller - Made for active parents, jogging strollers are perfect for running and jogging while transporting a baby. They are a smooth ride and great for traveling over rough or bumpy terrain. They have three oversized wheels—one in the front and two in the back—so you can turn quickly and be more stable at faster speeds. Because they're made for toting your baby and working out simultaneously, they can be relatively bulkier and heavier, compared to other types of strollers. Jogging strollers are recommended for children six months and up.
Double Stroller - Double strollers are designed for the convenience of transporting more than one child at a time. You can effortlessly carry twins or siblings around the same age in one stroller.

These strollers come in one of two usual formats: side-by-side doubles (both seats next to each other) or single file (seats one in front of the other).
 If you're still wondering how to choose the right stroller for you and your family, continue reading our tips below!
 What's Your Budget?
Strollers can cost from about $100 to over $1,000. As much as parents want the very best for their children, it's recommended to stick within your budget. If you have the budget, pricier strollers often come with nicer features like easier maneuverability, better suspension, and higher-end fabrics. But don't stress about these features because it's likely possible to choose a stroller that fits your family's needs based on your budget.
 What are the Safety Features?
Your stroller is made for the safety and comfort of your child while you transport them. Whichever stroller you choose, ensure it meets basic safety requirements. A good stroller is built to endure uneven terrains, bumps, and thumps while keeping your baby safe from harm. If you've been searching for strollers near me that have the best safety features, look no further than the selection at Kids 'N Kribs!
 How Many Babies Will Use It?
Are you planning on having only one child use the stroller? Or will multiple kids use the stroller? Answering these questions now can help you decide on the stroller you need. Investing in a double stroller is ideal for two younger siblings, while a single stroller works best until your child grows out of it.
 How Would It Feel?
Not sure where to start and what the different options will feel like? We have a large selection of floor models of stroller options that can suit every lifestyle, budget, and family. From jogging strollers to all-terrain strollers to light and compact strollers, we have something for everyone. Plus, we offer complimentary stroller assembly for strollers purchased through us and picked up from our location!
 Why Shop With Kids 'N Kribs?
Have you been searching the internet for top-rated strollers near me? Stop your search now and visit Kids 'N Kribs! We have a large selection of strollers that can suit every lifestyle, budget, and family. From our jogging, all-terrain strollers to our light and compact strollers, we have something for everyone. Contact us at 610.687.5437 to learn more about our products.