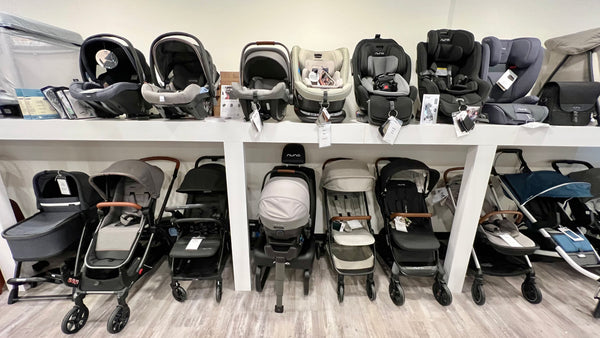 4 Baby Items You Should Definitely Splurge On
The list of items to buy for a baby can be overwhelming, not to mention costly. The options to add to a registry seem truly endless, from trendy new baby gear like a bassinet that rocks your newborn to sleep to popular items like a travel system that is a stroller and car seat in one. But an important question lingers, do you actually need the expensive stuff, or can you save the budget and skip the "must-have" baby items? Below, the experts at Kids 'N Kribs share which items you should splurge on to help make welcoming your bundle of joy the best and most comfortable experience.    
 Must-Have Baby Items That are Worth the Price
These items may be expensive, but we believe they're totally worth the investment. Whether they ensure your baby is safe during a family outing or comfortable while you're soothing them in the middle of the night, you'll be glad you purchased these items that will make your life a little easier.
 Stroller
There are endless stroller options to choose from, and each one comes with different functionality to suit your traveling needs. If you live in a city where most of your errands are done on foot, a stroller that is lightweight with a big basket and smooth push is a must. If you live in the suburbs and won't be shopping during your walks, a stroller with air or foam-filled tires ensures your baby can take a snooze as you cruise.
 Car Seat
A car seat is a non-negotiable item that you shouldn't skimp on. In addition to top-of-the-line safety features, your car seat of choice should have comfortable padding, a nice handle that won't hurt your arm, and plenty of shade for your little one. Another thing to consider; saying no to buying or borrowing a secondhand car seat that you do not have historical knowledge of. In addition, car seats, believe it or not, actually have expiration dates, and a used car seat might not be up to today's safety standards. While it can be pricey, it's vital to buy a new car seat that offers superior performance and unmatched safety features. 
 Baby Carrier
A baby carrier is something you don't realize you need until you don't have one. Whether you're making dinner, tackling the laundry, or taking the dog out, there are countless reasons you'll enjoy having your hands free with a baby carrier. The baby carrier you choose should keep your little one safe and snug so you can use your hands freely to handle everything else.
 Glider or Recliner Chair
Another necessity that you'll use endlessly? A nursery chair. You'll want to splurge on your glider or recliner and ensure it is extra comfortable, provides the proper support, and reclines as you spend hours in it feeding, rocking, soothing, and reading to your little one.
 The Greater Philadelphia Area's Premier Baby Shop
At Kids 'N Kribs, we specialize in carrying top-quality nursery furniture, baby gear, baby apparel, toys, and gifts for your little ones. Whether you're getting ready to welcome your first child or are searching for a gift for your friend, our baby shop is packed with all the essentials you'll need to make first moments special. Connect with us at 610 687 5437 to learn more about our offerings or stop in today!